Wake up America. wake up western civilization, wake up Christians. Liberal politicians alongside Islam are leading you to National Suicide and you blindly follow as sheep to the slaughter. WTF!
Islamic Blasphemy Laws & The Silencing of Free Speech (By Fascist-Leftists): The Parallels. The Dangers – Commentary By Adina Kutnicki
AS always, underlying the symbiotic nexus between Islamists and the fascist-left is zero-tolerance for those who dare to defy their dictates – totalitarian-like, it is their way…or else!! Said truth is revealed through an ever-increasing level of threats and concomitant violence. 
CONSIDER: Throughout the run-up to the 2018 mid-term elections, Linda Sarsour, the Muslim Mafia chick from the Brooklyn 'hood (btw, she threatened Jihad against Trump and his supporters, while cloaking herself in the American flag), has been warning Americans neither to defy Islam's march on the nation, nor refuse to hue to socialist policies, otherwise, they will suffer the consequences – whatever they may be. Pray tell, what could a vociferous, well-connected – to the highest levels of the Brotherhood Mafia and leftist power circles – Islamist mean by that?? It's a more than fair question.    
ALL of which binds the linkage between Islam's Blasphemy laws to the fascist-left's hammer blows against free speech. Full circle.
EFFECTIVELY, when Americans in specific and westerners in general are unable to criticize "prophet" Mohammed – or, for that matter, the underpinnings of Islam, that is, Sharia Law – well, how is that not censorship of free speech? In reality, just think back to the murderous Jihad plotted against Pamela Geller (and too many others) in 2015, for the "crime" of sponsoring a cartoon contest of Mohammed! Trenchantly, did you ever dare to think that such anti-freedom outrages would befall America, the heretofore land of the free and the home of the brave? Not only that, did you know that Eric Holder, HUSSEIN Obama's (legal) henchman, stealthfully, attempted to introduce Blasphemy laws into the American legal system? If not, now you do. Is that not an absolute violation of the Constitution's underpinnings? 
IN this regard, and in a deliberate and assiduous manner, America's fascist-left alike are laser-focused towards silencing free speech. This is no longer up for debate. As it stands, their tactics run the gamut. But most dangerously and ominously, violence through tactics of intimidation is their go-to modus operandi. Inexorably, the very fact that the domestic terror group, the "New Black Panthers" (part and parcel of Black Lives Matter), is confident and brazen enough to insert themselves – by the barrel of a gun, no less – into the Gubernatorial campaign for Georgia's far left candidate, Stacey Abrams (mind you, as they did during HUSSEIN Obama's campaigns), attests to the stepped-up dangers at bay via the "normalization" of junta-like violence.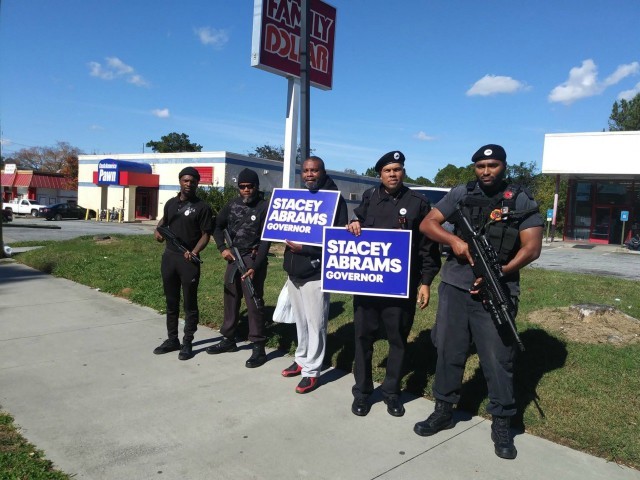 INDISPUTABLY, the proofs are beyond manifest. They can be evidenced here, here, here, here, and so on and so forth. 
RESULTANT, as the mid-term elections come to a head, few should be shocked….shocked….that "handsy, creepy uncle" Joe Biden is threatening violence, if Demsters fail to impose their will. Yes, major elected and non-elected officials are cheering him on. Mind you, the aforementioned are in league with Hussein Obama – you know,"if they bring a knife to a fight, you should bring a gun" violent rhetoric. Still, if you can withstand it, just imagine the captured media's 24/7 cycle of hateful, venomous coverage, that is, if Trump had issued such a violent threat. Hmm. Double standard, anyone? Read more at Adina Kutnicki